Posts for tag: periodontal disease
By Gilbert Dental Care
May 25, 2018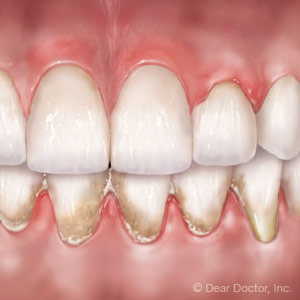 Periodontal (gum) disease, a bacterial infection caused by plaque, is one of the most prevalent and destructive dental conditions. Left untreated it can eventually lead to tooth and bone loss.
Although people are often unaware they have gum disease, there are a few warning signs to look for. Here are five gum disease signs that should prompt a dental visit.
Gum Swelling and Redness. Like all infections, gum disease triggers an immune system response that releases antibodies into the gums to attack the bacteria. The ensuing battle results in inflammation (swelling) and a darker redness to the gum tissues that don't lessen with time.
Gum Bleeding. It isn't normal for healthy gum tissue, which are quite resilient, to bleed. In a few cases, bleeding may indicate over-aggressive brushing, but more likely it means the tissues have weakened to such an extent by infection they bleed easily.
Tooth Sensitivity. If you notice a shot of pain when you eat or drink something hot or cold or when you bite down, this could mean infected gums have "drawn back" (receded) from the teeth. Gum recession exposes the tooth roots, which are more sensitive to temperature and pressure changes in the mouth.
An Abscess. As weakened gum tissues detach from the tooth, the normally thin gap between them and the tooth deepens to form a void known as a periodontal pocket. This often results in an abscess where pus collects in the pocket and causes it to appear more swollen and red than nearby tissues. An abscess needs immediate attention as bone loss is greatly accelerated compared to normal gum disease.
Tooth Looseness or Movement. As diseased gum tissue causes loss of gum and bone attachment, the affected teeth will start to feel loose or even move to a different position. This is a late and alarming sign of gum disease — without immediate intervention, you're in danger of losing the tooth.
If you encounter any of these signs, contact us for an examination as soon as possible. The sooner we can diagnose gum disease and begin treatment, the less damage it will cause — and the better your odds of regaining healthy teeth and gums.
If you would like more information on gum disease, please contact us to schedule an appointment for a consultation. You can also learn more about this topic by reading the Dear Doctor magazine article "Warning Signs of Periodontal (Gum) Disease."
By Gilbert Dental Care
June 05, 2014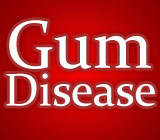 You've been doing "all the right things" — brushing, flossing, and keeping up regular office cleanings and checkups. But you're still struggling with gum disease — in fact, you've recently noticed loose teeth and other signs of infection.
While the primary cause of gum disease is dental plaque and calculus not adequately removed by regular oral hygiene and cleanings, you may also be among a small group of individuals with other risk factors that can worsen the effects of the disease. One of the most common of these factors isn't something you can do much about — the physical characteristics you inherited from your parents. In reality, some people are more genetically prone to disease than others because their body doesn't respond effectively to certain bacteria.
Chronic stress may also play a role in your body's resistance level: it can both increase your risk for the disease and magnify its effects. In addition, the type of bacteria causing the disease could be a factor — our mouths contain thousands of strains, with some bacteria more difficult to control than others.
If your gum disease persists regardless of all our best efforts, we may be able to test for whether any of these other factors are involved. Determining the presence of any of these underlying factors can help us fine-tune our treatment approach.
You should know, however, that it might not be possible to effectively address every factor involved. If that's the case, at some point it may be necessary to consider a tooth replacement option. The best choice by far are dental implants — not only are they functional and life-like in appearance, with proper care they could foster a healthier environment in your mouth by being stronger and more durable than the diseased teeth they've replaced.
Our ultimate goal as dentists is to alleviate gum disease and restore health and function to your teeth and gums. If that isn't completely possible due to uncontrollable factors, we then adopt a strategy to control the disease as much as possible to preserve your teeth for as long as is prudent. This can give you time, then, to prepare yourself mentally, emotionally and financially for future teeth replacement and restoration.
If you would like more information on periodontal disease, please contact us or schedule an appointment for a consultation. You can also learn more about this topic by reading the Dear Doctor magazine article "Periodontal (Gum) Treatment and Expectations."
By Gilbert Dental Care
April 11, 2014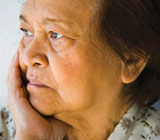 If you have recently noticed swelling, bleeding or pain in your gums, you may have developed a gum abscess. It's the result of periodontal disease, an infection in the gum tissue caused by bacterial plaque that has adhered to the teeth. It's important in the short term to treat the abscess, and in the long-term the underlying gum disease for the survival of the affected tooth and your overall health.
A gum abscess is a sac filled with infection that has developed between the tooth and gum. Besides swelling, you may also notice tenderness when you bite down on a tooth or feel that the tooth is loose. If the abscess originates from a root canal infection it tends to be much more painful, and the pain will seem generalized rather than from a specific tooth.
The first step in treatment is to drain the abscess. We would numb the area with a local anesthetic and then allow the infection to drain. After drainage we would clean and irrigate the infected root surfaces to remove any noticeable bacterial plaque, and possibly prescribe antibiotics and anti-inflammatory medication to reduce swelling and pain. The drained abscess should heal in a few days to a week.
The next step is to treat the underlying cause of the abscess. Depending on what we find in our examination, this can include root planing and scaling (deep plaque and tartar removal), or a root canal treatment where the infected pulp within the root canal is removed, and the canal is then cleaned, filled and sealed.
It's also a good idea for patients with gum disease to have a thorough health checkup. It's possible that other general health conditions such as diabetes or heart disease may be contributing to the gum disease, and vice-versa.
Treating a gum abscess and the underlying cause is about more than relieving pain or discomfort — you're also protecting your dental and general health.
If you would like more information on the treatment of abscesses or gum disease, please contact us or schedule an appointment for a consultation. You can also learn more about this topic by reading the Dear Doctor magazine article "Periodontal (Gum) Abscesses."