Posts for tag: dry mouth
By Gilbert Dental Care
August 03, 2018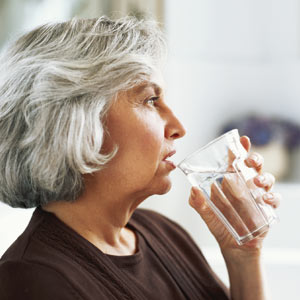 There is much to contend with as we grow older, including a higher risk for dental disease. One possible contributing factor: dry mouth from a lack of saliva.
Also known as xerostomia, dry mouth occurs when the salivary glands secrete less than the normal two to four pints a day. Saliva performs a number of functions, but perhaps the most important for dental health is as an acid neutralizer. Within a half hour to hour after eating, saliva can restore the mouth's normal pH level to prevent acid from softening tooth enamel. When there isn't enough saliva, acid levels stay high leading to erosion of the enamel. This vastly increases the chances for tooth decay.
Although there are several causes for dry mouth, one of the more common is as a side effect from certain medications. It's estimated over 500 drugs — many taken by seniors — can cause dry mouth, including diuretics for high blood pressure and heart failure, antidepressants, and antihistamines. Some diseases like diabetes or Parkinson's may also reduce saliva flow, as well as radiation and chemotherapy.
If you've developed chronic dry mouth, there are some things that may help restore adequate saliva flow. If medication is the cause you can talk to your doctor about an alternative medication or add a few sips of water before swallowing the pills and a full glass afterwards. You should also drink plenty of non-caffeinated beverages (water is the best) during the day and cut back on sugary or acidic foods. And a cool-air humidifier running while you sleep may also help keep your mouth moist.
We may further recommend an over-the-counter or prescription stimulant for saliva. For example, xylitol, a natural alcohol sugar that's found in many gums and mints, has been found to stimulate saliva and reduce the risk of tooth decay as an added benefit.
Last but not least, be sure to brush and floss daily to remove disease-causing plaque and see us at least twice a year for cleanings and checkups (if your mouth is very dry, three to four times a year is a better prevention program). Managing chronic dry mouth along with proper oral hygiene will help ensure your mouth continues to stay healthy as you grow older.
If you would like more information on the causes and treatment for dry mouth, please contact us or schedule an appointment for a consultation. You can also learn more about this topic by reading the Dear Doctor magazine article "Dry Mouth."
By Gilbert Dental Care
November 19, 2014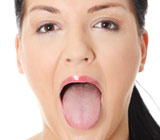 A consistently dry mouth is not only uncomfortable and unpleasant but also probably more serious than you think. Dry mouth, medically known as xerostomia ("xero" – dry; "stomia" – mouth) affects millions of people, but few understand why it happens or why it is important.
What Causes Dry Mouth?
It is normal to awaken with a dry mouth because saliva flow decreases at night. But if your mouth is persistently dry throughout the day, it may be a result of habits such as smoking, alcohol or too much coffee drinking or even dehydration. It is also a common side effect of some medications. Xerostomia is not a disease in itself, but it could be a symptom of salivary gland or other systemic (general body) disease.
Why is Saliva Important?
A persistently dry mouth can be a problem. Not only does it feel unpleasant and lead to bad breath, it can also significantly increase your risk for tooth decay. Saliva lubricates your mouth for chewing, eating, digestion and even speaking. Saliva also has important antibacterial activities. Most importantly normal healthy salivary flow neutralizes and buffers acids in the mouth to protect the teeth from the acids produced by bacteria on the teeth that cause decay, and by acids in sodas, sports drinks and juices that can erode tooth enamel.
Not only does saliva neutralize acids but with its high mineral content it can actually reverse de-mineralization — the process by which acids attack enamel and remove calcium from the enamel surface. Healthy saliva actually re-mineralizes the outer layers of tooth enamel, but the process can take 30-60 minutes. That's why it's important not to snack on sugars or drink sodas between meals — one an hour and your mouth is acidic all the time.
Individuals without enough saliva are especially at risk for root decay and fungal infections, and they are also more likely to lose tooth substance through abrasion and erosion.
What Can We Do for a Dry Mouth?
If your mouth is usually dry, make an appointment with us to assess the causes of the problem. However it may be more serious with medical implications. The solution may be as simple as drinking more water and using good daily oral hygiene, or it may necessitate prescription medication to promote more saliva flow.
Contact us today to schedule an appointment to discuss your dry mouth and what we can do to help. For more information read the article in Dear Doctor magazine "Tooth Decay – How To Assess Your Risk."