Posts for tag: dental implant
By Gilbert Dental Care
October 17, 2019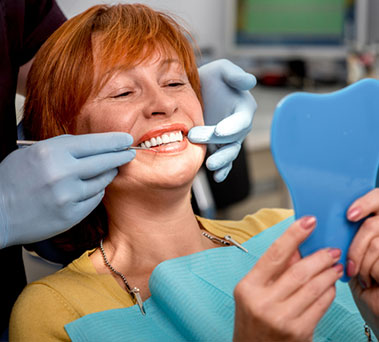 When you hear the word "surgery," your first thought might be of a high-charged operating room with a surgeon operating intently as a nurse mops sweat from their brow. While there are high-stakes surgeries, most aren't quite that dramatic.
Dental implant surgery falls into the latter category. It does qualify as a surgical procedure because we make incisions and tissue alterations for the implant. But it's no more rigorous than a surgical tooth extraction.
Still, if you're new to implant surgery, it's natural to feel some apprehension about it. To calm any nervousness, here's a rundown of what to expect before, during and after the procedure.
Pre-Planning. Implant surgery is usually a routine affair because of meticulous planning beforehand. Often, we map out the implant site using CT scanners or other high-level imaging, identifying obstacles like nerves, blood vessels and sinus cavities, verifying there's enough bone present to support an implant. With this information we can create a surgical plan or guide for placement in the mouth to accurately situate the implant.
Site Prep. On the day of the surgery we'll first administer local anesthesia to numb the entire work area to pain. We'll start with a few small gum incisions to expose the bone. Then using the surgical plan or guide, we'll create a small channel for the implant with a drilling sequence that successively enlarges it until we achieve the best fit for the implant.
Implant Placement. Once we've completed drilling the channel, we'll remove the implant from its sterile packaging and install it in the channel. After we've made any necessary adjustments and verified proper placement with x-rays, we'll suture the gum tissue back into place.
After the Surgery. You might experience mild to moderate discomfort afterward that's usually manageable with over-the-counter pain relievers like ibuprofen or acetaminophen. We can, if necessary, prescribe medication if you require something stronger. We may also prescribe an anti-bacterial mouth rinse for a short time to reduce the risk of infection.
After the implant has integrated with the bone which usually takes about 8-12 weeks, we'll install your life-like crown or restoration. Your new smile and improved dental function will be well worth the process.
If you would like more information on the process for obtaining dental implants, please contact us or schedule an appointment for a consultation. You can also learn more about this topic by reading the Dear Doctor magazine article "Dental Implant Surgery."
By Gilbert Dental Care
August 08, 2019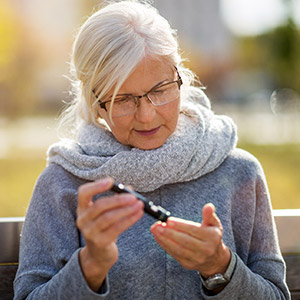 You would love to replace a troubled tooth with a dental implant. But you have one nagging concern: you also have diabetes. Could that keep you from getting an implant?
The answer, unfortunately, is yes, it might: the effect diabetes can have on the body could affect an implant's success and longevity. The key word, though, is might—it's not inevitable you'll encounter these obstacles with your implant.
Diabetes is a group of metabolic diseases that interfere with the normal levels of blood glucose, a natural sugar that is the energy source for the body's cells. Normally, the pancreas produces a hormone called insulin as needed to regulate glucose in the bloodstream. A diabetic, though either can't produce insulin or not enough, or the body doesn't respond to the insulin that is produced.
And while the condition can often be managed through diet, exercise, medication or supplemental insulin, there can still be complications like slow wound healing. High glucose can damage blood vessels, causing them to deliver less nutrients and antibodies to various parts of the body like the eyes, fingers and toes, or the kidneys. It can also affect the gums and their ability to heal.
Another possible complication from diabetes is with the body's inflammatory response. This is triggered whenever tissues in the body are diseased or injured, sealing them off from damaging the rest of the body. The response, however, can become chronic in diabetics, which could damage otherwise healthy tissues.
Both of these complications can disrupt the process for getting an implant. Like other surgical procedures, implantation disrupts the gum tissues. They will need to heal; likewise, the implant itself must integrate fully with the bone in which it's inserted. Both healing and bone integration might be impeded by slow wound healing and chronic inflammation.
Again, it might. In reality, as a number of studies comparing implant outcomes between diabetics and non-diabetics has shown, there is little difference in the success rate, provided the diabetes is under control. Diabetics with well-managed glucose can have success rates above 95%, well within the normal range.
An implant restoration is a decision you should make with your dentist. But if you're doing a good job managing your diabetes, your chances of a successful outcome are good.
If you would like more information on dental care and diabetes, please contact us or schedule an appointment for a consultation.
By Gilbert Dental Care
November 04, 2014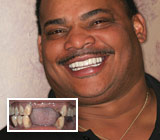 This is the story of a well-known man, fearless in most respects, who was afraid of the dentist. Even though his fears had resulted in neglect and serious damage to his teeth, modern dentistry and a talented dental team were able to restore his smile to health. If you share this fear, his story may inspire you to take action.
We're talking about William Perry, former defensive lineman and fullback for the Chicago Bears. Here is a man who could fearlessly face a football squad — but not a visit to the dentist. Nicknamed "The Refrigerator" for his 380-pound massive frame, Perry played for ten years in the NFL before retiring in 1994. Since retiring he founded and operated a construction company in South Carolina in addition to making celebrity appearances.
With his celebrity in mind, a team composed of a talented restorative dentist, implant surgeon, and lab technician agreed to give "The Fridge" a makeover. After discussing modern technology and virtually pain-free dentistry with him, they managed to overcome Perry's fears. "I had been in constant pain for many years and I neglected myself, not having had any dental care for over 20 years, not even emergency care. Unfortunately, as I grew older my teeth started to get loose," Perry told an interviewer. He had lost many teeth and became known for his gap-toothed smile.
Perry had severe gum disease and many of his remaining teeth were loose. In the past his only option would have been a full set of dentures. But his new dental team was able to place dental implants (permanent tooth replacements) supporting fixed bridges. In most cases dental bridges are attached to healthy teeth, but in Perry's case the implants served as anchors for the bridges. They also stabilized his jawbone, which would otherwise "resorb" or melt away after his teeth were lost. This is important because it helps preserve the contours of his face.
After careful planning "The Fridge" had eight dental implants placed in his upper jaw and seven in his lower. The final bridgework was completed four months later. It turned out that even though the gap between his teeth had become his trademark, "the Fridge" never really liked it. He was thrilled with his new smile.
Even if you have some fears, don't hesitate to follow Perry's example and make an appointment with us for a consultation about dental implants, smile makeovers, or bridgework. For more information about William "The Refrigerator" Perry, see the Dear Doctor magazine article "How Immediate Implants Saved 'Refrigerator' Perry's Smile."