Posts for: November, 2014
By Gilbert Dental Care
November 19, 2014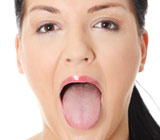 A consistently dry mouth is not only uncomfortable and unpleasant but also probably more serious than you think. Dry mouth, medically known as xerostomia ("xero" – dry; "stomia" – mouth) affects millions of people, but few understand why it happens or why it is important.
What Causes Dry Mouth?
It is normal to awaken with a dry mouth because saliva flow decreases at night. But if your mouth is persistently dry throughout the day, it may be a result of habits such as smoking, alcohol or too much coffee drinking or even dehydration. It is also a common side effect of some medications. Xerostomia is not a disease in itself, but it could be a symptom of salivary gland or other systemic (general body) disease.
Why is Saliva Important?
A persistently dry mouth can be a problem. Not only does it feel unpleasant and lead to bad breath, it can also significantly increase your risk for tooth decay. Saliva lubricates your mouth for chewing, eating, digestion and even speaking. Saliva also has important antibacterial activities. Most importantly normal healthy salivary flow neutralizes and buffers acids in the mouth to protect the teeth from the acids produced by bacteria on the teeth that cause decay, and by acids in sodas, sports drinks and juices that can erode tooth enamel.
Not only does saliva neutralize acids but with its high mineral content it can actually reverse de-mineralization — the process by which acids attack enamel and remove calcium from the enamel surface. Healthy saliva actually re-mineralizes the outer layers of tooth enamel, but the process can take 30-60 minutes. That's why it's important not to snack on sugars or drink sodas between meals — one an hour and your mouth is acidic all the time.
Individuals without enough saliva are especially at risk for root decay and fungal infections, and they are also more likely to lose tooth substance through abrasion and erosion.
What Can We Do for a Dry Mouth?
If your mouth is usually dry, make an appointment with us to assess the causes of the problem. However it may be more serious with medical implications. The solution may be as simple as drinking more water and using good daily oral hygiene, or it may necessitate prescription medication to promote more saliva flow.
Contact us today to schedule an appointment to discuss your dry mouth and what we can do to help. For more information read the article in Dear Doctor magazine "Tooth Decay – How To Assess Your Risk."
By Gilbert Dental Care
November 04, 2014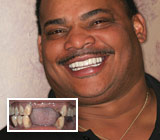 This is the story of a well-known man, fearless in most respects, who was afraid of the dentist. Even though his fears had resulted in neglect and serious damage to his teeth, modern dentistry and a talented dental team were able to restore his smile to health. If you share this fear, his story may inspire you to take action.
We're talking about William Perry, former defensive lineman and fullback for the Chicago Bears. Here is a man who could fearlessly face a football squad — but not a visit to the dentist. Nicknamed "The Refrigerator" for his 380-pound massive frame, Perry played for ten years in the NFL before retiring in 1994. Since retiring he founded and operated a construction company in South Carolina in addition to making celebrity appearances.
With his celebrity in mind, a team composed of a talented restorative dentist, implant surgeon, and lab technician agreed to give "The Fridge" a makeover. After discussing modern technology and virtually pain-free dentistry with him, they managed to overcome Perry's fears. "I had been in constant pain for many years and I neglected myself, not having had any dental care for over 20 years, not even emergency care. Unfortunately, as I grew older my teeth started to get loose," Perry told an interviewer. He had lost many teeth and became known for his gap-toothed smile.
Perry had severe gum disease and many of his remaining teeth were loose. In the past his only option would have been a full set of dentures. But his new dental team was able to place dental implants (permanent tooth replacements) supporting fixed bridges. In most cases dental bridges are attached to healthy teeth, but in Perry's case the implants served as anchors for the bridges. They also stabilized his jawbone, which would otherwise "resorb" or melt away after his teeth were lost. This is important because it helps preserve the contours of his face.
After careful planning "The Fridge" had eight dental implants placed in his upper jaw and seven in his lower. The final bridgework was completed four months later. It turned out that even though the gap between his teeth had become his trademark, "the Fridge" never really liked it. He was thrilled with his new smile.
Even if you have some fears, don't hesitate to follow Perry's example and make an appointment with us for a consultation about dental implants, smile makeovers, or bridgework. For more information about William "The Refrigerator" Perry, see the Dear Doctor magazine article "How Immediate Implants Saved 'Refrigerator' Perry's Smile."